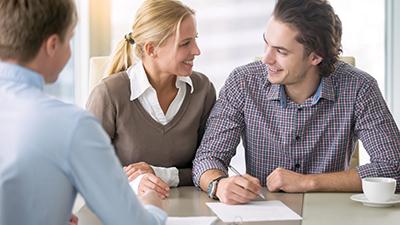 Owning a car can be one of the most thrilling yet confounding things we ever do in our lifetime. There's so much to know, and being on top of it all can be an absolute chore. At Mann Chevrolet, we understand that not everyone in Delphi is a gearhead, but it is essential to stay informed as much as possible. Hence, we've compiled this handy FAQ to answer some of the most fundamental questions about the car buying process for our customers around Lafayette and Monticello.
Leasing VS Buying
This is probably the first question that every car buyer around West Lafayette needs to answer for themselves; to lease or to buy. Your answer largely depends on the type of person you are. Do you get attached to the cars you drive? Or are you always looking to engage with the latest advances in the automotive industry? If you connect with your vehicle, it's better to buy. If you enjoy swapping out cars for the latest models, it's better to lease.
Buying vehicles typically come with higher monthly payments, but the flip side of that is that the car is undoubtedly yours to do with as you will. Plus paying off a sedan, truck, or SUV can have a tremendously positive effect on your credit score in the long run.
Leasing vehicles come with lower monthly payments and are a lot like renting a car. Generally, leases last about three years, the same length as the manufacturer's warranty, giving lessees many of the same benefits buyers have.
Differences Between New and Used Vehicles
The idea that new and used vehicles aren't the same may seem obvious at first glance, but there's more to this question than you might think. First of all, a lot can change year to year in a given model. For instance, manufacturers are always iterating on their standard features and available technology. As years pass technology becomes more advanced and cheaper to produce, empowering them to provide customers with better options at the same price.
Additionally, new vehicles come with a manufacturer's warranty just in case something happens.
Meanwhile, used vehicles can save Logansport drivers a ton of money on your monthly payments, and if you take your time and do your research, you can secure a used vehicle that drives like new.
Benefits of Buying Used
Used vehicles are what most car shoppers typically go for as they are often a lot cheaper than paying a full price MSRP. Most dealerships, including Mann Chevrolet GMC, give each used vehicle a comprehensive inspection before they hit the lot, so you know you're getting a great deal.
Applying For Credit? Here's How to Prepare.
The critical thing every car buyer around Frankfort needs to do before investing in a new or used car is to be realistic about their budget. Knowing what you need and not getting sucked into unnecessary features is essential, and valuing the trade of your current ride can save you a lot of money on a down payment.
ASK THE SERVICE EXPERTS AT MANN CHEVROLET GMC
You want to be sure you're getting the highest level of care for your vehicle and our team here in our service center are happy to help. People have plenty of questions and we make sure to answer all of them. Among the common questions we're asked, we've decided to provide answers right here with a little FAQ on auto service and repair to help you make the right decisions when it comes to maintaining your vehicle.
How often should I change my oil?
Changing your oil is one of the best things you can do to help your vehicle be at its best for all driving throughout Delphi, Logansport and Monticello. It's recommended that you change your oil every 3,000 to 5,000 miles depending on your driving habits. We're here to guide you through it, and will help you determine the right time with scheduled maintenance appointments, especially for new vehicles purchased or leased here.
When should I get new tires?
You'll want to upgrade your tires when the tread is worn to the point where they aren't going to provide the right level of traction and support. You'll know when the tires fall below 1/16 of an inch in depth. You can use the penny test (meaning if you see the top of Lincoln's head, it's time for new tires), or our team can take a look and let you know when you need to get a new set.
When do I need my battery replaced?
If your vehicle is struggling to start up, or if your battery dies, you should get a new one. Batteries should last for about four years, depending on many factors. We do battery checks for drivers in Lafayette and West Lafayette so they have a better idea how much power your battery has left.
What are your service hours?
Our service hours here at Mann Chevrolet GMC Monday through Friday 8:00am to 5:00pm, and Saturday 8:00am to 12:00pm. If you have any questions about vehicle maintenance and repair or would like to schedule an appointment online, contact us and we'd be happy to get started today.